After the pandemic hit, we all realize how important it is to have our own happy space at home. For some, it is in the kitchen, for others in the bedroom, and for some, it is in the family room or game room. But one thing we all missed is a connection with the outside world.
Things we covered for you:
Get the Right Outdoor Lighting
Choose the Right Flooring
Add a Cookout or Fireplace
Design a Rooftop Bar for Unforgettable Parties
Add Pergolas or a Rooftop Gazebo
Make it into the Perfect Dining Spot
Create an Open-Air Theatre
This is why a lot of us are making the best use of any open spaces in our homes like balconies, gardens, and even our roofs! If you have a roof or an empty terrace, we have some great rooftop decoration ideas for you to try out at home.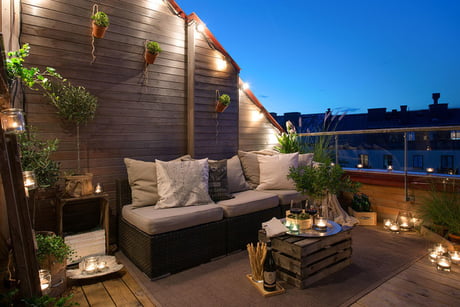 Get the Right Outdoor Lighting
The best way to set the mood that you're looking for is by finding the right lighting. Rooftop terraces usually have very little or no light at all. Invest in solar lights, they won't add to your electricity bill and are easy to install. If you have the time and the resources, you can get a variety of lighting added to your rooftop terraces. The most popular lighting options are colorful lanterns, that add a very Arabian Nights vibe, simple tiki torches that bring in a fun Hawaiian vibe, string light, or simple lampposts and sconces that give you space to play with many terrace design ideas.
No matter what lighting you're choosing; you need to make sure that they can survive all types of weather and that the wiring is done right. Since your lights will directly face heavy rains and the sun beating down on them, it needs to be weatherproof and water-resistant.
Choose the Right Flooring
Most often your rooftop and terrace are ignored in the design process. There are no tiles or special flooring that is done for this outdoor space. This is a huge mistake, with a little TLC, this can become the most loved spot in your home. This is why it is a good idea to spend on getting the right flooring for your rooftop terraces.
The popular choices for rooftop terrace flooring are:
Tiles
Stone
Concrete
Gravel
Rubber
Fake grass or artificial turf
Paint
Decking
These choices are hardy, they can withstand any weather condition, and don't require too much maintenance. If you have a room that leads directly onto the terrace, then have flooring that matches the room so it looks like a natural extension of your home. If the flooring is too delicate for the outdoors, then get something that is a close match.

Add a Cookout or Fireplace
If you want to make your rooftop terrace space where you can spend time through the year, and as much as possible, you should consider adding a cookout or a fireplace. If you think a cookout is a too much work, then a grill or a barbeque pit will also do the job. You need to have a little covering for this if it is a permanent fixture. You can have barbeque parties throughout the year and have fun meals outdoors.
A fire pit/fireplace or at least heat lamps are essential during the winters. These will keep you warm and toasty on a cold winter night. They also add to the décor of any rooftop design that you're looking at.
Design a Rooftop Bar for Unforgettable Parties
If you're one who loves to entertain and have guests over, then a rooftop bar is the best thing to invest in! You can either build one or buy a bar cabinet that you can fit outdoors. To add to the bar aesthetic, you can make a large counter space and add some comfortable seating as well. Terrace bars also need good lighting and a covered space so that you can be more comfortable outdoors throughout the year.
Add Pergolas or a Rooftop Gazebo
Another great terrace design idea is to add a pergola or a gazebo to your roof or terrace. These structures add warmth and charm to the space and create a very cozy space for you at home. They also provide you with a bit of protection from the elements and make it a great spot to hang out throughout the year.
You can design them as per the space you have, you can make them using wood or more hardy materials such as metals (for pergolas especially), you can even add some garden swings to make the whole space very fun and comfortable.
Make it into the Perfect Dining Spot
Eating indoors is not as fun as eating outdoors, this is why we love picnics! So, when you have an open terrace or rooftop at your disposal, make it into your dream outdoor dining space. You can get some neat picnic benches made and some picnic umbrellas too. These add color and will give you protection from the elements.
If you have a portion of your roof that is covered, then you can even splurge a little more and get a lovely large dining table and fun chairs to go with it. You will still have to weatherproof this furniture so that it lasts longer and serves you well.
Create an Open-Air Theatre
Since going to the theatre now is rather risky, you can create your own theatre at home on your rooftop terraces. You don't need to invest in much, just a projector system and a speaker. To sit, you can use chairs from inside your home, or go old school and lay some mat or rugs on the floor. You can also get really comfortable floor cushions that make great seating options for the floor. If you're setting up an open-air theatre, you won't have to worry about investing in too much lighting, but you will need to have an electrical outlet nearby.
These are just a few ideas you can use as inspiration for your terrace or rooftop. When you are getting your open terrace designs created, it is best to consult a professional interior decorator. They will study your space and suggest what would look best and meet your needs effortlessly. If you wish to hire professional interior decorators, visit us by clicking below, you will get the best quality designs from experienced professionals.